OMFG why is that circle there?!
So, I've gotten quite hooked on Osu! even though I remember thinking that the game seemed rather boring when one of my friends first told me about it ages ago. Well, that was before I realized it was the closest thing to a Nana game that I could play currently. :P Funnily enough I get better results on higher difficulties than lower ones, probably because they go more on beat than the easier ones. Also, I get my best scores on Final Fantasy X songs - listening to them non-stop when I was 14 has burned them to my brain I guess. :')
Anyways, there is still one more thing I have to mention before I start on the actual topic of the post. It was somehow a very magical experience listening to Nana's Cosmic Love yesterday while walking home from the university in the insane wind. It somehow just made me feel a lot better. Think I'm starting to slowly get a grip on things again. :) Now listen to this awesomely cute song and watch the awesomely cute Nana in an egg (sigh, that'd be funnier in Finnish..) or else! Yasashii kimi no hohoemi ima amai CHOKOREETO mitai, hitorijime shitai! <3
Okay now to the actual topic, which is my very overdue list of the week. Topic suggested by Chris! Also, I will count a series as one entry so that the list is more versatile. A very hard list to make yet again, with all the books I've read during my life and liked...
Top 10 Books
10. The Life and Loves of a She Devil (and other books) by Fay Weldon
The most hilarious book on taking revenge in the world. I doubt anyone would go as far as the woman does in the book, but it is a very good read and makes oneself feel better if dealing with the end of a relationship. Fay Weldon has such a lovely and witty way of using words that it is nearly guaranteed that if a book is written by her, it's excellent. She's from Worcester by the way. :p
9. The Inheritance series by Christopher Paolini
Very similar to Lord of the Rings world- and race-wise, but moves along at a very more enjoyable pace and has a focus on dragons, DRAGONS! I love dragons. The story is very captivating and every time you finish a book you crave for the next with your whole being. Watching the growth of the main character is a pleasure, as he matures very much and becomes very dependable (kind of like Takeo in the Otori series). This was supposed to be a trilogy at first, but the author did not reach the end of the story by the end of the third book, so the agonizing wait for the final book is currently upon us... sigh. Also, the movie adaption of the first book is the worst movie I have ever seen - please do not watch it!
8. The Host by Stephenie Meyer
This book is so much better than Meyer's Twilight series, since by the time she made this book she had already had time to improve her writing style and the story is much more deeper. The concept of an intellectual alien parasite race taking over the human species on Earth is very interesting and the book is full of nice twists. I even based my game level during my first semester of university on this book! Now I just hope that they won't decide to make a crappy movie out of this...
7. Harry Potter series by J.K. Rowling
Well of course Harry Potter had to be here, it's probably on everyone else's list too if they've read the books. I have a fun history with this series, as when the first book came out (I was living in America at the time) and everyone got completely hooked on it I swore to myself I would not participate in this madness myself. I mean seriously, a nerdy boy with glasses on a fucking broom - who cares? It really frustrated me when on Halloween half my school dressed up as Pikachu and the other half as Harry Potter! It made me even more firm in my decision. My mom ruined my resolve though by sneakily buying the first book for me and being the bookworm I am, I could not resist reading a book that was in my possession. I hated to admit it, but the book was good and I became a fan.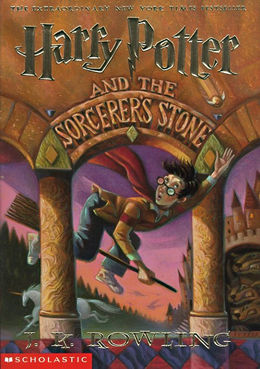 see? Nerdy boy on a broom! My first impression was spot on!
6. Suzumiya Haruhi series by Nagaru Tanigawa
This series is just plain hilarious, starting from the concept of a girl having the powers of God but not being aware of it herself and being kept in check by a time-traveller, an esper and an alien. The way Kyon, a normal boy who narrates the books, talks about things is very fun and interesting and really makes the books enjoyable. The most fun series I have ever read, and even though the anime adaptation of this series is great the books are even better. Can't wait for more!
5. Stephanie Plum series by Janet Evanovich
My mom introduced me to this series last summer and in no time I had read all the books of it that she owns. I love the quirky characters and the fun way of writing that Evanovich has and it is quite a pleasure to embark on the journey of reading in their company. Stephanie and her partner Lula make the funniest pair of bounty hunters ever, not to mention that Stephanie owns a super hamster, named Rex, who just does not die no matter how many years seem to pass. O_o Plus, Stephanie has two really hot men fighting over her. I want a Ranger and a Morelli in my life too! And yes, I had to choose book 7 for the picture here, not only for the 7-factor but also because of it being the first one I read. Purely coincidental as my obsession of sevens had not surfaced then yet.
4.

深愛 by

水樹奈々(Shin Ai by Mizuki Nana)

I could not put this as number 1, as I cannot currently read it due to my Japanese not being good enough to, well, read a book. This book is the autobiography of the lovely Nana-chan, telling about her rough journey to the top. The book has to be amazing considering it has been written by her, which is why it deserves such a high spot even without having read the book yet. I am working hard to be able to read this as soon as possible! Also on a side note, the title of the book, Shin Ai, means Deep Love. :)
3. Norwegian Wood and other books by Murakami Haruki
This book really broke my heart, since it was so emotionally beautiful and sad. I really love the way Murakami writes and what he writes about. Apart from the reoccurring themes in his books you never really know what to expect which is nice and refreshing. Also, compared to the Rei Shimura series it's nice to see Japan from the male perspective. The characters in Murakami's books can be really heartfelt when he wants them to be and all the bad things that happen to them will scar you for life as well. Everyone should at least read Norwegian Wood, definitely a classic that one.
2. Rei Shimura series by Sujata Massey
This is quite a new addition to my favorites, I am actually currently in the process of reading the last book still. Rei Shimura just blew me away with all of the very interesting storylines it holds and also all the little snippets of information it has about the Japanese culture. It is a nice and fuzzy feeling reading about certain aspects of Japan and realizing I already knew them! The first couple of books don't flow quite as smoothly as the rest, but Sujata develops her writing style quite nicely and fast. Should definitely read these if the Japanese culture interests you!
1. Tales of the Otori series by Lian Hearn
I read the first of these a very long time ago when I was still in junior high and the series has stuck with me all of these years. The world and the characters of the series is well built as is the society and you cannot help but get absorbed in all their losses and triumphs. Definitely a worthwhile read for anyone, especially for people who like Japan. I have to say though that the last book is really frustrating. But yeah, a definite classic which I've already read quite a few times and will do so again at some point.